Registration
REGISTRATION, HOTEL ACCOMMODATION, ACCREDITATION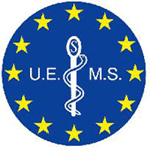 Accreditation :
This course has been accredited by the European Accreditation Council for Continuing Medical Education (EACCME) to provide the folowing CME activity for
Medical specialists – 21 European CME credits (ECMEC)
Annecy Live Surgery International Shoulder Advanced Course 2011 is designed for a maximum of, or up to 21 European CME credits (ECMEC).
For non-european people, download this document.
Registration & Hotel Accommodation, Two ways :
FINAL DEADLINE MAY 4, 2011 / DATE LIMITE 4 MAI 2011
For any special request, do not hesitate to contact :
ANNECY-CONGRES – Tel. +33 (0)4 50 45 00 70 – Fax. +33 (0)4 50 51 87 20
E.mail : organisation@annecy-congres.com
REGISTRATION / INSCRIPTION
Fee :
Until March 31, 2011: 950 €
From April 1, 2011 : 1200 €
CANCELLATION must be made in writing to Annecy Congrès Annecy Evénements. Up to May 1st, 2011 : a refund of 50% of the fees will be made. There will be no refunds for cancellations received after this date. All refunds will be processed after the conference.
TOUTE ANNULATION doit être envoyée par écrit à Annecy Congrès Annecy Evénements. Jusqu'au 1er mai 2011 : remboursement 50% des frais d'inscription. Aucun remboursement ne sera possible après cette date. Tout remboursement sera effectué après la conférence.
HOTEL BOOKINGS / RÉSERVATION DE CHAMBRES
Indicative room prices / Prix indicatif des chambres

Category
Minimum
Maximum
Hotel deposit per room
4****
172 €
250€
175 €
3***
86 €
169€
100 €
2**
69€
95€
69€
Breakfast not included (from 7 €  to 16 €  according to category)
Petit-déjeuner non compris (de 7 € à 16 € selon la catégorie)
Booking will be processed in order of arrival and are subject to availability of accommodation. / Les réservations seront satisfaites dans l'ordre de leur réception et dans la limite des chambres disponibles.
Applications can only be dealt with if they are accompanied by the required hotel deposit : this sum will be deducted from your hotel bill at the end of your stay and implies that no further modification can take place. Hotel deposits are non-refundable and remain the property of the hotel where the booking has been made. In case of early leaving departure, the hotel could charge the total amount of the cancelled nights./ Seules seront prises en considération les demandes de réservation accompagnées du montant des arrhes. Cette provision sera naturellement déduite du montant de la facture de l'hôtel lors de votre règlement à la fin de votre séjour, ce qui implique qu'aucun changement ne pourra intervenir, les arrhes restant acquises à l'hôtel où la réservation aura été confirmée. En cas de départ anticipé, l'hôtel pourra facturer au client le montant des nuits annulées tardivement.
You will be informed of your hotel reservation by email from Annecy Congrès / Votre réservation hôtel vous sera notifiée par email de la part d'Annecy Congrès.