Welcome

Dear Friends,
Welcome to the 4th edition of the Annecy Live Surgery Shoulder Advanced Course.
Since the inaugural event in 2005, this has been the world's first and largest meeting built exclusively on live surgery. We have continued to organize every 2 years this course with enormous world-wide interest. In 2009, over 1000 people, including more than 800 surgeons from 40 countries and 5 continents gathered in Annecy for the event. We extend our gratitude to the wonderful international faculty, including the best shoulder surgeons from around the world, for donating their time and expertise to make this course a success. Hopefully as both surgeons and moderators, interacting and sharing transparently, the expert faculty will provide all of you with an in-depth knowledge of the most advanced and up-to-date techniques available in shoulder surgery today.
Shoulder surgery is advancing at an amazing rate. Thus, over the last two years, there has been a dramatic increase in our knowledge of the "Out of the Box " endoscopic extra-articular shoulder anatomy, pathologies and the relevant treatment options available. Shoulder surgeons are now able to better analyze shoulder pathologies and have developed more technically advanced methods to address them. Science is progressing very quickly, and it is becoming increasingly difficult for the surgeon to keep pace in this rapidly changing environment!
As a live surgery course, we provide the most real-time, up-to-date exchange of state of the art surgical ideas and techniques, and we continue to organize the course with this in mind. During the 4 day event, our international shoulder faculty will perform 38 live surgeries. As in 2009, we will adhere to the concept of exclusively live surgery, and the curriculum will be based on regional anatomy and not pathology. We have selected surgical procedures to deal with a variety of different pathologies according to a specific shoulder region.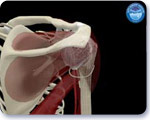 Day one (Thursday June 2nd) will be dedicated to arthroscopic diagnosis and treatment of pathology of the Postero-Superior shoulder, including : SLAP repair, Posterior labral repair and posterior bone block procedures, Supra & Infraspinatus cuff repair, Suprascapular nerve access and release, and AC joint stabilisation.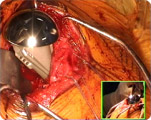 Day 2 (Friday June 3rd) will be dedicated entirely to Arthroplasty.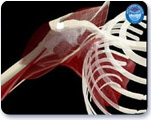 Day 3 (Saturday June 4th) will address arthroscopic management of the Anterior Shoulder region, including: Anterior labral repair, Subscapularis repair, as well as the anterior bone block and Latarjet procedures.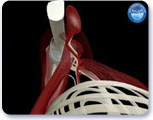 Day 4 (Sunday June 5th) will focus on the Inferior Shoulder, including: the Brachial Plexus and, more specifically, Axillary Nerve release and Latissimus Dorsi transfer. At the conclusion of each day, all faculty members will gather for a final panel discussion.
All aspects of surgical management for the encountered shoulder pathologies will be shown. However, this year more time will be dedicated to open and arthroscopic shoulder anatomy, management of bone loss in shoulder instability, and to pertinent details and options for double row rotator cuff fixation. The target for the arthroplasty surgeon will be to focus on soft tissue management and surgical exposure of the joint rather than on the specific types of arthroplasties used. The prostheses will be fully discussed during the workshop sessions.
As in 2009, a permanent live virtual 3D shoulder animation will aide in visualization and discussion of the anatomy and pathology currently treated under arthroscopic, limited, two-dimensional visualization. The aim of the 2011 meeting is to show, through 38 Live Surgeries, the most up-to-date techniques, and to learn, in real time, how the world's best surgeons and surgeon moderators face the different situations and difficulties encountered. This is live, transparent, state of the art shoulder surgery. Despite the occasional difficulties that arise during live surgery, we will start and finish on time. The opportunity to observe how the best worldwide surgeons react and confront these difficulties is certainly one of the most interesting and instructive highlights of this meeting. The moderators will be the permanent link between the audience and the performing surgeon. We also want you to be an active part of the discussion and this dynamic learning process as you will make this event a success!
We are extremely happy to welcome you to Annecy for the 4th "Woodstock of shoulder surgery!"
Amitiés
Laurent LAFOSSE
Course Chairman